RELATIONAL COORDINATION MEASURES THE STRENGTH AND QUALITY OF TEAM PERFORMANCE
What is Relational Coordination?
Relational Coordination (RC) is a mutually reinforcing process of communicating and relating for the purpose of task integration. Relational coordination captures the relational dynamics of coordinating work.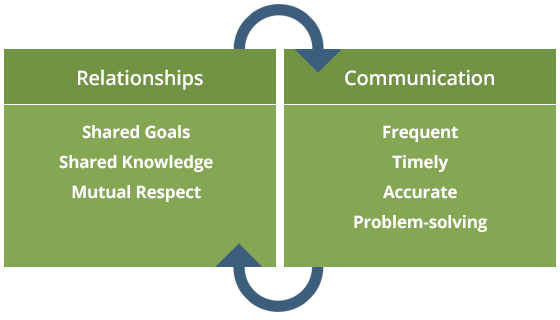 RC offers a flexible and measurable network concept of teamwork based on roles and is associated with a wide range of performance outcomes and embedded in a model of organizational performance.
Why does it matter?
Relational coordination theory has been tested in over 70 empirical studies. Research findings suggest that the strength of relational coordination ties among participants in a work process predicts an array of performance outcomes including quality, efficiency, client engagement, and workforce engagement. In healthcare studies specifically, relational coordination scores are significantly correlated with increased quality, improved clinical outcomes, shorter length of stay, improved patient satisfaction, patient engagement, staff satisfaction and staff resilience.